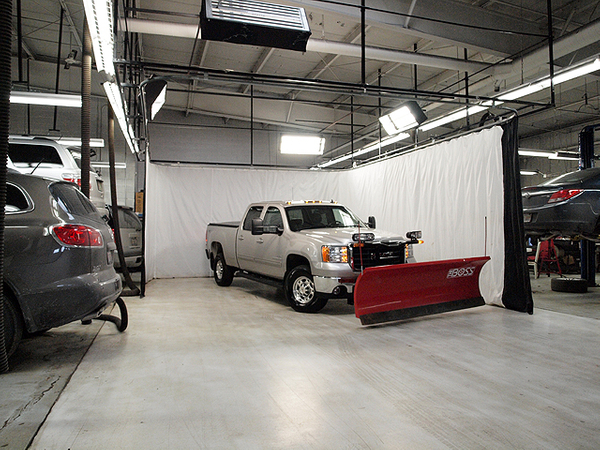 VERSATILE. FLEXIBLE. Affordable.
Let us bring our world-class auto photo booth to you! We pull out all the stops to create truly professional results within your own dealership. Contact us today to tell us about your auto dealership photography needs and our professional team will show up ready to install your new ZennAutoStudio permanently in your building.
Our Zenn Auto Studio can be installed in your showroom, auto shop, or anywhere you need it providing flexibility and versatility. The curtains open and lights come on only when you need them.
We provide everything necessary to produce stunning results for a price that makes sense. When we're finished, you'll be left with state-of-the-art equipment that provides outstanding auto photography!
We take our time to deliver perfection
Our Studio Package includes:
Track System —
Our track system is 18 feet wide by 25 feet long. It can accommodate vehicles as large as a Ford F-250 crew-cab with an eight-foot bed.
Curtain —
Colors pop against our backdrop, which is 10 feet high and 60 feet long white vinyl. Dual black panels act as enclosures for the studio when it's not in use, protecting your investment from dirt, smudges, and dirty hands.
Diffuser —
Give your vehicles a glamorous glow thanks to a white vinyl diffuser that covers the entire track system and softens the glare from our high-powered light cabinets. The diffuser is 25 feet long and 18 feet wide.
Lighting —
We give your vehicles the red carpet treatment with four high-powered 4 LED fixtures at 40,000 lumens each. The lighting has a low power consumption and a 50,000 hour life span!
Additional Options —
We're happy to customize your studio with the following customizations:
Extra light cabinets (up to 10)

Vinyl color options (blue, red, yellow, black, and green)

Custom fabric options

Hand-painted options

Satin in metallic colors
eager to get started?
Fill out the form below for the best options in your area.